Hello there! Thanks so much for stopping by. My name is Abigail Thomas, and I'm currently a junior at the University of South Carolina in Columbia studying Computer Information Systems. I'm originally from the great state of Tennessee, specifically Knoxville and moved to Columbia, South Carolina in the fall of 2015 to start my college adventure.
Outside of class, you'll usually find me at the gym, refining my hand lettering skills, or working on my blog, Living the Gray Life.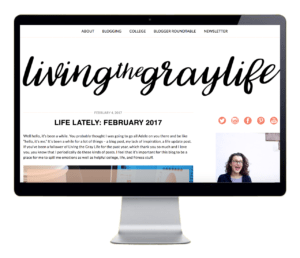 Living the Gray Life was founded in June 2015 as a way for me to continue with my passion for web development, graphic design, writing, and photography. The blog keeps me up-to-date on all things HTML and CSS, as well as working on developing WordPress themes.
Each month, Living the Gray Life reaches over 20,000 young women with content featuring topics ranging from college advice and fitness tips to health and beauty and WordPress development. In the past two years, I've worked with multiple brands such as Amazon, Rifle Paper Co., Ellie Activewear, and Clarisonic. From a small dream that started in the bedroom of my childhood home, Living the Gray Life has turned into an online community of motivated, passionate young women looking to make a difference in the world.